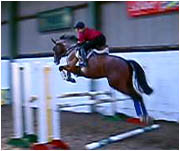 Jumping in the school, UK.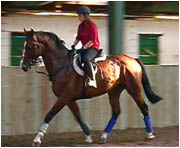 Riding Dickie in the indoor, UK.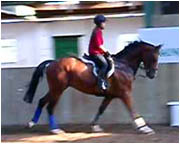 More riding...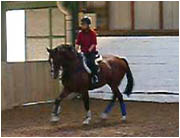 More riding...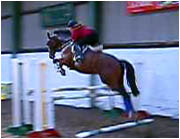 More jumping...
"Milton Bonanza"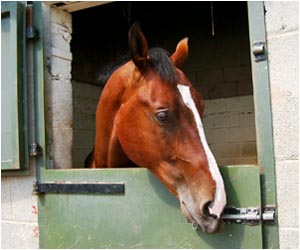 The new baby on the yard. Dickie is only 4, but I know he will be something special. To start with he is so handsome. Second, he is so gorgeous to ride. He hasn't done many shows, but he's maturing every day, and going so well.
More about Dickie
His showname's "Milton Bonanza", his birth name is "Pieter" and his stable name is "Dickie". He's a registered KWPN by Irco Lando out of Astiena. Imported into the UK in May of this year (2001) he is 4 years, 16.2 hhs and bay. Then we brought him to KL same time as Trio.
He wasn't for sale really when I went to Selina's yard, but he was so good looking and her favourite, and when she let me sit on him he felt amazing. After some more rides and a lot of thinking (we were planning on buying only 1 horse) we finally decided we should get him. Also he was best friend's with Trio, so it was nice they could come here together. Even the groom that travelled with them when they flew over said they were "first friends".
Before he came out, Selina took him to his first show and he went very well. He sometimes looks at colors and new fillers, but he's got huge ability and a lot of heart. When you bring him out, after his initial five minutes of mucking around (he's playful) he settles down and does really good work.
Nicknames
"Wicked" or "Wicked Dickie" ~ Selina.
Back to the horse homepage.
Or click here for Trio's page.