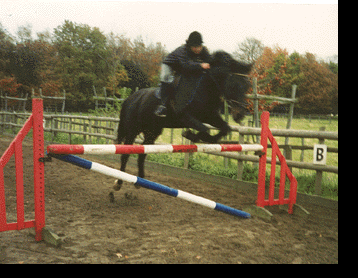 "Donovan"
A 15.2hhs dark bay gelding, he was a superb all-rounder. I was extremely lucky to have him on loan from the riding school owners. He wasn't actually a school horse - he was one of Mrs Nuthall's own horses, but she didn't really have the time to ride all of them, so when I was looking for something bigger to move on to when I had outgrown my pony, she offered to let me try him.
Grade C and medium dressage, he was so versatile he could do anything. I had him for a year, and in that time, took him to all the shows I could make. This was a lot of fun - there was me on Donovan, Kate and Silver Coin, and Julia on Skipper (Postscript). He placed in every single class he jumped in, he was that good. He would jump from the tightest and most atrocious of turns and though he was a bit of a maniac outside the ring, when he got inside, he knew his work.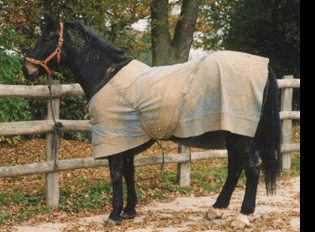 Scariest moment on him was when I took him into the woods for a canter and a jump, but he decided to keep going, galloping off with me out of the woods and onto the road. We went for some way and I was deciding to myself what I was going to do once we reached the end of the country road onto a busy motorway! It was really not that funny at the time, in fact, damned dangerous! Luckily for us, Mrs Nuthall was coming up the road with her horsebox, and we couldn't get past her as the road was too narrow. I guess things like this happen to everyone. We were just luckier than some!
Because he was so strong I asked if I could try a slightly stronger bit on him - (he was ridden in a snaffle). But his owner didn't think it was such a good idea, because he had the tendency to overbend, and a stronger bit would just have made that worse. So we continued to go in a snaffle. I'd just sometimes have to get off and hold him from the ground when he got too naughty. And did he scare some people at shows!
I was seriously thinking of offering to buy him, to bring home to Malaysia, but I doubt if he would have been for sale. I was lucky enough to get the ride on him.