Chrisjenn They're Happy aka "Lady"!
Jupiter Brown X Angelakenn Juno Brown
Born: 21st July 2002; Color: Gold & White; Sex: Female
Happy now lives with Nydeaa and Nicarryn Tan, who call her Lady.
Over the Chinese New Year break, her new family brought her to visit
us, and my, how she's grown! She's even shed most of her puppy hair now.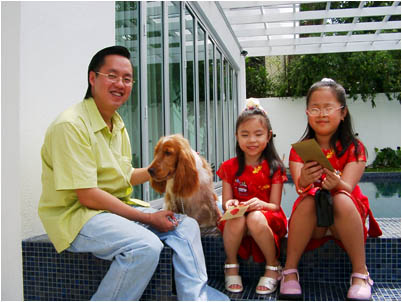 Lady with Nickque, Nydeaa & Niccaryn.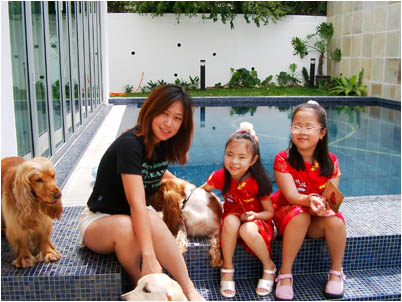 Here with me & her human mummies Niccaryn & Nydeaa.
Lady's biological mummy JUNO looks on.
Meet Happy's siblings: Starbucks, Growley Girl, Luckey, Chester, Scooby, It's Springtime & Jumanji.
Or meet her parents: Juno her mum and Jupiter Brown her dad.

Sign our guestbook ~ View our guestbook ~ Email us!