Leanne Chambers & her horses, 98'.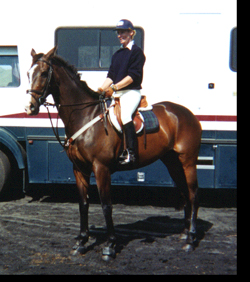 "Paddy"
More famously known as "Harbour Bridge", this is Leanne's 3-day eventer, one of the classiest in New Zealand. Jumping double clears every time and with his dressage scores climbing with each outing, this pair are real contenders for the upcoming Sydney Olympics in the Y2K. What makes this combination even more colorful is the fact that Leanne is a showjumper-turned eventer... one of the very few to be competing at the highest level for both disciplines.
Having turned to specialize in showjumping more than ten years back, she has recently taken up eventing again where she left off - at ADVANCED level. No piddly novices or intermediates for this pair - they are the real thing! Watch out for them at Puhinui this year!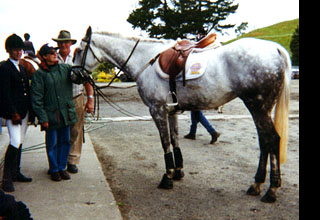 "Chamonae"
Chamonae is Leanne's Grand Prix jumper. He just moved up to Grand Prix level this season and is already showing that he has more than enough capability to take him to the very top. Don't know too much aout him except that he can jump and that he likes to have someone stand with him when he travels in the horsebox, or he gets a little grumpy. And his horse friends are not enough! Quite a character.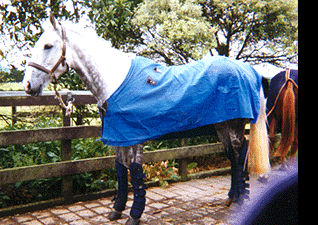 "My Blueprint"
Known at home simply as "Bluey", he is Leanne's second horse at the moment. Younger than Chamonae, the other grey in the family, he is fast catching up. Found by Ted, who has always had a great eye for good horses, he came to the Chambers as a young green horse, but after months (and years) of hard work, he is now happily winning the 1.3m tracks. Living with Chamonae has certainly got him attached to his fellow grey. At shows when Chamonae goes off to jump, Bluey has to follow, or he'll be neighing and kicking till someone comes to get him. He does not like to be left alone.
Click here for B.J.
Click here for Just For Fun.
Click here for Donovan.
Click here for Night Fox.
Click here to go back to Riding Homepage.