BJ Copyright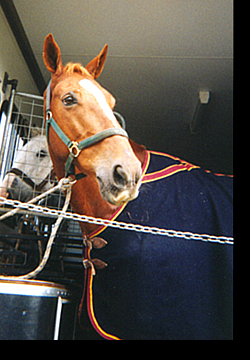 Meet "B.J.", the newest member of our family. I flew out to try him recently at Leanne's farm in New Zealand and he was really cute. He is on his way to Malaysia now and should be with us by mid December. What a lovely Christmas gift!

16.1hhs, his dad's the Irish stallion, Laughton's Legend, his mum's a thoroughbred. Born in 1989, he turns 10 next year. Been an eventer most of his life, but will turn to specialize in showjumping once he gets here, only because eventing is not hot in Malaysia, most of our riding being in the City. He has been eventing at novice level, but has jumped the Taupo two star cross country jumps, whihc are, I hear, very sizeable indeed.

On the left, B.J is pictured in Leanne's nice new horse truck, looking so adorably alert!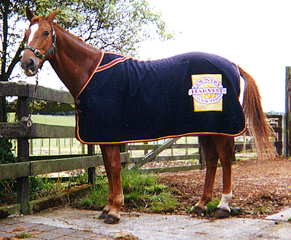 His showname will be Copyright. We spent ages thinking up this one for him... we thought it would be nice for him to have a different showname, so he can sound smart next to all those other horses with pretentious names. B.J. is cute, but he looks so regal that we thought he needed a fancier showname. Also a name that meant something. After all, we are feng shui freaks.
As well as being a super performance horse, BJ also makes the best companion. Just having him around keeps all the other horses sane, either at a show, tavelling in the horse box... we just hope he has as great a time in Malaysia as he has had in New Zealand. We've already warned Justy Boy that he will be getting a neighbour, and our dear old palomino cannot wait. December 17th is the big day, when he arrives at Bukit Kiara.
Can't wait to have you with us!!!
Click here for Just For Fun.
Click here for Night Fox.
Click here for Donovan.
Click here for riding in New Zealand.
Click here for more on Leanne Chambers.
Click here to go back to Riding Homepage.