Night Fox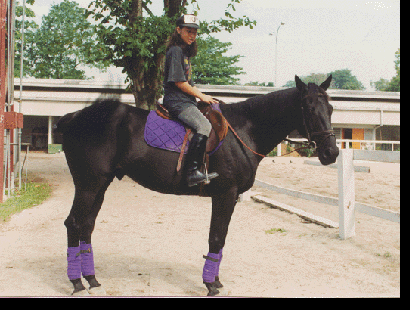 Night Fox was something of a character. We bought him as an eight year old off someone who had brought him into Malaysia, but never really found the time to ride him. We were looking for a horse at the time for me to compete on, because going into all the shows with my other horse, Stormy, was not working out. Stormy was an ex-racehorse and did not think much of a twelve year old riding him. Stormy is now my Dad's horse and much more matured and sensible.

So we bought Niffy, and he jumped double clear for me everytime. Not only did he never ever stop at a fence, he never knocked either. He must've been one of the most careful jumpers I have ever ridden. We won and placed in a lot of junior events, but one day, we had a bad experience and he has never been the same since. After that day, he always had this thing about running out - and unless you went at breakneck speed and rode him very firmly, he would run out.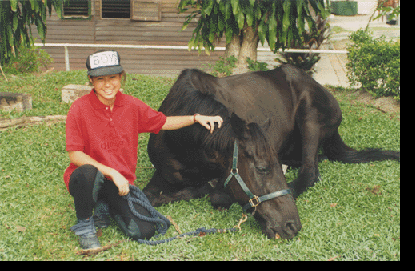 Part of Niffy's problem was that he was so possessive. It must have been around the time when we got Just For Fun that he started to act up. And miraculously, he would always be so much more agreeable when Just For Fun was off lame, or resting, or doing something apart from being ridden by me.
One thing Niffy could not stand was being bullied. A lot of trainers felt he had to be told who was boss, as he could be extremely stubborn sometimes, but that was when he woud start to buck and get real grouchy.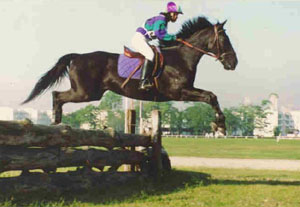 We sold him on to a loving family in 1996, when I went away to University and did not have so much time with my horses. And even before then, we were not giving him as much attention as he demanded as Just For Fun was the one who got to go to all the shows.
We felt that he could fulfill his potential as a pleasure horse so much more with another family. Indeed, the kids are greatly enjoying making a fuss over him, brushing him, washing him and galloping him on the track (he is virtually bombproof). I still love him very very much! The good thing is that he still lives in the same club, in the same stable where he was before, so we can see how he is getting on.
Click here for B.J | Click here for Just For Fun | Click here for Donovan | Click here for more on Leanne Chambers | Click here for New Zealand | Click here to go back to Riding Homepage.