Just For Fun. My fourth horse, in fact, but a very special one. He won me lots of rosettes, gave me lots of confidence and never failed to amaze everyone with his stealth, style and stamina. A TB/Quarterhorse cross, he made the ideal all round horse. Classy enough to win competitions, kind enough to teach beginners, keen enough to bolt off with me at full gallop more than just occasionally. But very, very safe. He always looked after me. He taught me that trust is the most important thing in any successful partnership. Of late, he has been semi-retired with a bout of leg problem. He still gives much pleasure as a companion, a pet and a friend. But his heart must be aching to leap one of those fences he once found so irresistible. He will always have a special place in my heart.
This (below) was Just For Fun and me in our first show together after he arrived. We bought him from Leanne Chambers after trying him out at her farm in Pukekohe, New Zealand for a week. He unfortunately caught starngles on his way over on the ship and had to extend his stay at quarantine from 2weeks to six long months, and when we were finally allowed to go and visit him at quarantine, he looked a bag of bones and very, very miserable.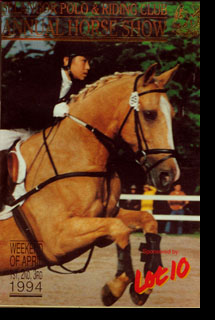 As soon as we could get him out, we nursed him back to health and he slowly became the stunning horse we saw in NZ once again. His quirks: either he hates his shadow, or he's scared of it! When he first arrived at his new home, he'd sppok everytime we rode in the sun, because he didn't like that black thing that seemed to follow him everywhere. Although when he was in the ring competing, nothing could scare him. Funny horse. I guess he knows.
Just For Fun, like his namesake, was just that. Winning was coincidental. One of his favourite games was to see how many carrots he could scam off you, and more often than not, he won. He knows how to get your attention by nudging you with his muzzle, and if you ignore him, he's even learnt to nibble at your hair and labels on your clothes. And when he misses, it hurts!

He stopped competing at the age of 13, when he developed a teeny bit of what they think was ring bone but weren't sure. It came as a shock because everyone always commented on how strong his feet were, coz after every show he was always so super sound. But when we stopped jumping him, he missed it so much that when we put him in a paddock, he would jump in and out of his own accord. Very bad for his feet, but can't stop him!

Today his dressage is very much improved because of the time we have been spending on that side of his training. When he competed, dressage was sort of a "might as well", rather than an active effort to excel in it.
Love you, Justy Boy.