New Zealand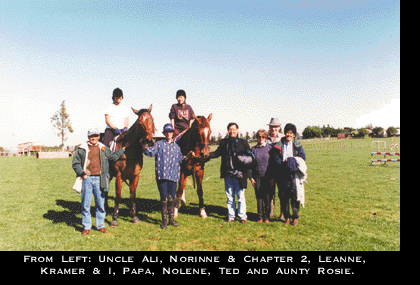 New Zealand was tons of fun... we went to visit Leanne and her family at her farm in Pukekohe. It was us, the Toos family, and all the Dewals. Norinee, Ashraff, Rastam, Aunty Rosie and Uncle Ali, my parents and me... Grreat fun. Our holiday consisted of a week of riding, then a week of skiing. We tried to convince Leanne to come along, but she had to take a raincheck. Shame!

As well as lots of super riding in the mornings, we went into Auckland in the afternoons to do some shopping. And got introduced to the most gorgeous carrot cake ever - I have not tasted anything that has come near it ever since.

Now to the riding... I tried Take Five and Kramer, then had a little ride on one of her younger horses, Castle Rock. Take Five was a great chestnut 6 year old, who jumped more like a twelve year old - he was so calm and clever! Not as go-ey as Justy Boy, but jumped anything, from anywhere. Kramer was a big gentle fella, whom Norinne took over riding after the first day. She went really amazing with him. I think he was a little on the big side for me. Castle Rock was the famous half (or full, I can't remember) of this famous world class horse, so see.. my claim to fame! Norinne rode Kramer and Chapter Two most of the time. Can't really tell you how Chapter Two rode, but looked quite nice. Also quite a zippy horse.

The skiing part of the holiday was great too... there were three mountains to choose from. The Remarkables, COronet Peak and one more which was further from our hotel, and more unpredictable, weather-wise. The best part of the day was the coming back to the hotel all zonked from skiing... and sipping warm Gluhwein in the Hotel bar... yum! Food there was also great - we tried everything. From Japanese to Western, Thai to Chinese. Some of us even did the amateur-slalom race down Coronet Peak - I hav a photo to prove it. Ok, we didn't win, but it was pretty neat slaloming down past those flags... felt more profesh than our normal routine!

The highlight of the week must've been when Rastam had to be stretchered down the hill on the last day on the last slope... he was OK - a sprained knee and leg I think, but enough to give us a bit of a scare. Oh well... at least we left with a story.

Enough... till the next time.

Click here for Just For Fun | Click here for Night Fox | Click here for BJ |
Click here for more on Leanne Chambers | Click here to go back to Riding Homepage.