BARBRA STREISAND LIVE
Las Vegas (April 28, 1999) - Barbra Streisand will appear New Year's Eve at the MGM Grand Garden in Las Vegas, an engagement that, according to her manager Martin Erlichman, may be her final one.
Climaxing months of rumors as to which major entertainment venue might persuade the recording industry's all-time topselling female artist to usher in the new millennium with a rare performance, the MGM Grand Hotel has signed the superstar for an appearance on December 31, 1999, at the 13,000 seat MGM Grand Garden in Las Vegas, it was announced by Erlichman, the actress/singer/director's career-long manager, and Richard Sturm, Senior Vice President-Worldwide Entertainment, for MGM Grand Hotel, Inc.
Erlichman pointed out that Ms. Streisand historically had dedicated most of her creative time to her recording career, to her work as director, producer and actress in motion pictures and, recently, to her Barwood Films slate of issue-oriented motion pictures for television. He noted that prior to two MGM Grand concerts just over five years ago, she had gone nearly three decades without performing for pay in public.
"My priorities have shifted," a newly-wed Streisand says, "I want to work less these days, travel and enjoy my life. If this engagement goes well, I may decide later to appear in a few cities around the world that my husband and I would like to visit."
The New Year's Eve performance will be the first public performance (other than a 1996 political fund-raiser for President Clinton) by Ms. Streisand since the conclusion of her 1994 six city tour. The upcoming appearance will mark the sixth anniversary of her two show engagement at the MGM Grand Garden prior to that tour.
"There is no question," Sturm noted, "that Ms. Streisand's performance has been the single most sought-after entertainment event for this once-in-a millennium occasion. The MGM Grand is delighted that it will host the major attraction of that important celebration. With the added significance that this might be her final performance in the United States, the night will certainly be truly historic."
Marvin Hamlisch will conduct the upcoming concert for Ms. Streisand, as he did for her last concert tour.
Barbra Streisand is currently preparing a new album of love songs entitled "A Love Like Ours" which Columbia Records will release later this year. Her most recent album, "Higher Ground," has sold over 5,000,000 copies worldwide, one of twelve multi-platinum albums and 24 platinum, the most ever for a female artist in each case. Her total of 40 gold record albums is exceeded only by Elvis Presley and The Beatles. Ms. Streisand continues to be the highest-selling female recording artist ever and has had number one albums in each of the last four decades. Her number one albums span a period of over 39 years, the greatest longevity in that statistic for any recording artist or group.
Ticket prices for the upcoming New Year's Eve event will range from $500, $750, $1500, with Golden Circle pricings at $2500. Tickets will be placed on sale on Sunday, May 2, at 9 a.m. Pacific Time / Noon Eastern Daylight Time, and newspaper ads commencing April 30 will inform how tickets may be purchased. Prior to that, information regarding the concert can be obtained on the Internet at ticketmaster.com and/or barbrastreisand.com.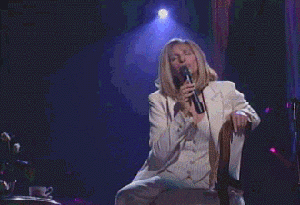 Barbra Streisand: The Concert 1994
Act I
1."Overture"
2."As If We Never Said Goodbye"
3.Opening Remarks
4."I'm Still Here"/"Everybody Says Don't"/"Don't Rain On My Parade"
5."Can't Help Lovin' That Man"
6."I'll Know (with Marlon Brando)"
7."People"
8."Lover Man"
9.First Therapist Scene

10."Will He Like Me?"
11.Second Therapist Scenev 12."He Touched Me"
13."Evergreen"
14.Third Therapist Scene
15."The Man That Got Away"
16."On A Clear Day (You Can See Forever)"

Act II
1.Entr'acte
2."The Way We Were"
3."You Don't Bring Me Flowers"
4."Lazy Afternoon"
5."Not While I'm Around"

6."Ordinary Miracles"
7.Yentl Medley:
"Where Is It Written?"
"Papa, Can You Hear Me?"
"Will Someone Ever Look At Me That Way?"
"A Piece Of Sky"
8."Happy Days Are Here Again"

Encores
1."My Man"
2."For All We Know"
3."Somewhere"
This concert was truly superb.