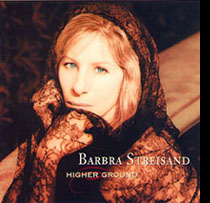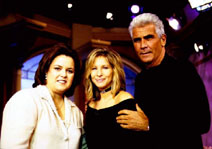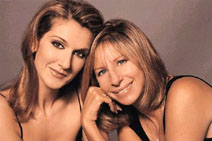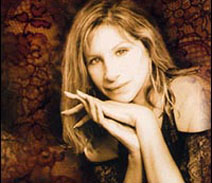 Higher Ground - Original Release: November 11, 1997
"My plan was to sing a collection of songs that transcended
any one religion, but spoke to the hearts of all persons of faith...
May these songs fill your soul with the breath of life and faith".
- Barbra Streisand
1. I Believe / You'll Never Walk Alone (E. Drake, I. Graham, J. Shirl, A. Stillman / R. Rodgers and O. Hammerstein II) - One was a hit for Frankie Laine in 1953, the other is from Rodgers & Hammerstein's Carousel...simple stories about faith, and I wanted to revisit them in a less traditional way.
2.Higher Ground (Steve Dorff, George Green, and Kent Agee)
- We've all seen how common it is for some people to tear others down...The only way to fight back is to do good work and leave a legacy of some kind, one that is positive, uplifting, and hopefully, motivating.
3.At The Same Time (Ann Hampton Callaway)
- I adore the lyric...knowing how fragile the planet is, how fragile souls are, and how desperately we need unity.
4.Tell Him (Duet with Celine Dion; by David Foster, Linda Thompson, and Walter Afanasieff) - It's about an older (and hopefully wiser) woman advising a younger woman in love...It's better to err on the side of
generosity when it comes to life and love.
5.On Holy Ground (Geron Davis) - I love the sound of a gospel choir, with all its earthly passion...The lyric says that whenever we stand in the presence of God,
we're on holy ground.
6.If I Could (Ronald L. Miller, Kenny Hirsch, and Martha V. Sharron)
- For Jason: It's about how we have to let go of our children eventually, something we moms and dads have a hard time doing.
7.Circle (Jud Friedman and Cynthia Weil) - Life is a circle. Generations of the past are mere dust, as we will be too someday. But love and faith endure.
8.The Water Is Wide / Deep River (traditionals)
- I first heard "Deep River" at age 16 when I bought my first Johnny Mathis record...interesting to pair it with "The Water Is Wide." The two images, connecting "deep" and "crossing over" also resonate with me.
9.Leading With Your Heart (Alan Bergman, Marilyn Bergman, and Marvin Hamlisch)
- They knew how much I loved Virginia Kelley, so they titled the song after her autobiography, Leading With My Heart.
10.Lessons To Be Learned (Allan Rich, Dorothy Sea Gazeley, and Marsha Malamet)
- This song explores that questioning side of faith, when we wonder why bad things have to happen to us.
11.Everything Must Change (Bernard Ighner)
- I first recorded this song in 1974, but I wasn't happy with the arrangement...We all change, grow, age, and evolve. Learning to embrace that change, to celebrate it, is one of the most important lessons we'll ever learn.
12.Avinu Malkeinu (music by Max Janowski)
- "Our Father, Our King" is a supplication to God to treat us with kindness and generosity, even when we haven't always lived up to His ideals for us.
Barbra's three-year inspirational album project began in January 1994 at the Arkansas funeral of Virginia Kelley, President Clinton's mother, with its beautiful, emotional, and uplifting songs, including Janice Sojstrand's rendition of "On Holy Ground," which gave Barbra a desire to sing that song and similar others. Preparing for the "On Holy Ground" recording sessions, Barbra provided producer-arranger Mervyn Warren (formerly of Take 6) with a tape recording from the funeral as a model for her gospel choir recording.